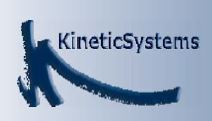 KineticSystems is a trademark of DynamicSignals LLC and provides high performance data acquisition products and services for a variety of applications worldwide since 1970.
For more than 40 years, KineticSystems has provided solutions to meet demanding data acquisition and control requirements based on the CompactPCI, PXI and VXI standards. KineticSystems aims to evolve with new technologies while preserving the past to provide unrivaled long-term support.
KineticSystems focuses on providing data acquisition solutions tailored to your specific needs. Strategic partnerships with systems integrators enable them to be involved in very complex projects that require different vendors to work together seamlessly to deliver leading-edge integrated solutions. The company has earned a worldwide reputation for excellence in ensuring that its data acquisition solutions are integrated efficiently and cost-effectively into total solutions that meet the requirements of its customers. Collaborative efforts with industry experts allow us to offer a solutions-based approach to our customers.
No products were found matching your selection.