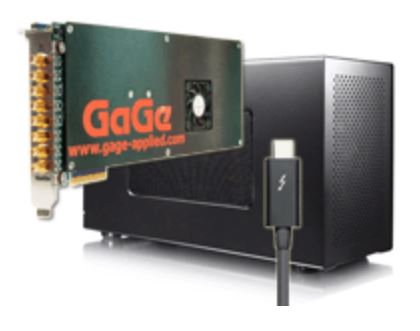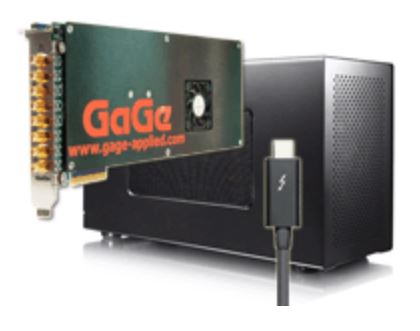 GaGe support Thunderbolt 3, the exciting new high-speed 5 GB/s PC interface, for use with all GaGe PCIe Digitizers. The Thunderbolt 3 interface is found on the following convenient PC system device form factors, Laptops 2-in-1s , tablets All-in-Ones, Mini PCs.
Thunderbolt 3 is a new PC interface standard that provides the ability to utilize our highest performance PCIe instruments with compact PC systems with limited or no PCIe expansion slots. All GaGe high-speed PCIe Digitizers are now supported by this new Thunderbolt 3 expansion platform.
With the new Thunderbolt 3 interface, the best performance will be obtained by using our PCIe Gen3 products, the 16-bit 1 GS/s RazorMax Express or 12-bit 6 GS/s EON Express. GaGe is now offering these in a pre-configured package that includes the Thunderbolt 3 PCIe Gen3 Expansion Box and Thunderbolt 3 cable, bundled as a single part number.